Breast Reduction E-book
If you're thinking about getting breast reduction surgery, Dr. James Romanelli's free E-Book describing the procedure and what to expect can be an invaluable resource for you. As a nationally recognized cosmetic surgeon, Dr. Romanelli shares his knowledge and expertise to help patients feel comfortable and confident with their decision to undergo breast reduction surgery. The E-Book describes who is a good candidate for the procedure, what to expect during the consultation, and how to prepare for recovery. Click the link below to download your free copy today.
Download
Meet Our Doctors
Drs. James Romanelli and John Layliev make up our highly qualified team of plastic surgeons at Romanelli Cosmetic Surgery in Huntington, NY. Together, they bring over 30 years of expertise and hands-on experience to our practice. Their mission is to provide every patient with individualized care that helps to transform their aesthetic and confidence. As seasoned surgeons, they are exceptionally versed in the latest techniques and technologies to yield unparalleled service for stunning outcomes. We invite you to meet our doctors to learn more.
Learn more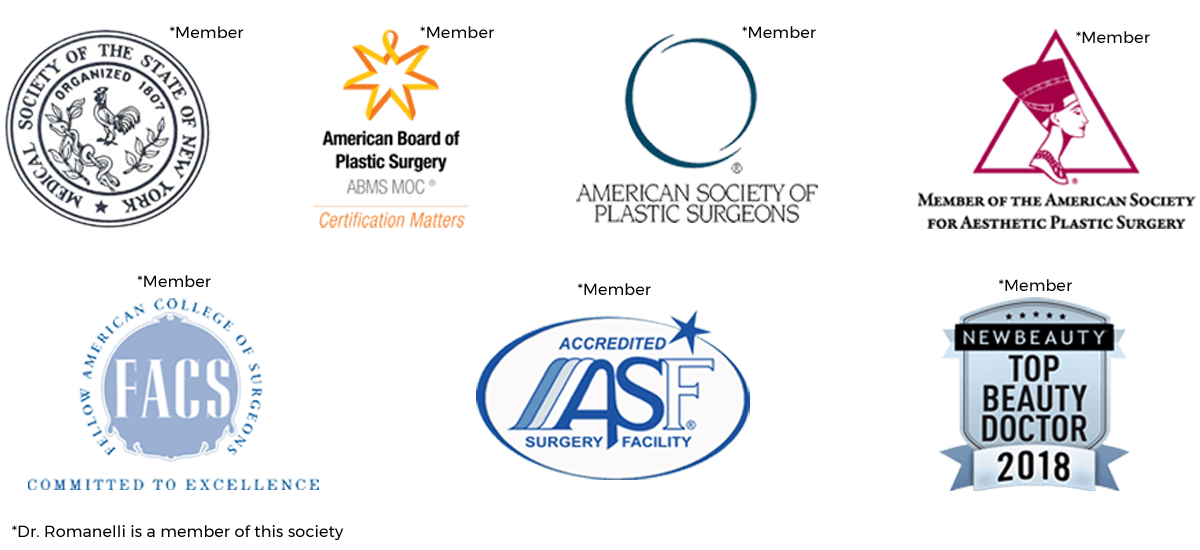 Reviews
Amazing Liquid Rhinoplasty! - I was unhappy with my facial profile so I went to Dr. Layliev for a liquid rhinoplasty(nonsurgical nose job). He listened to all my concerns, and discussed exactly how he would mold the filler to smooth the bridge of my nose. At the end he suggested adding some to the tip to give it a little turned up look, which I elected to do, and LOVE. He gave me my dream nose, all with filler, no...
Great Doctor - I was very impressed with doctor Lyliev. He is very professional, honest and detailed. He answered all of my questions and did amazing work. I would definitely recommend him for anyone looking for some self improvement.
Breast Reduction - Dr. Romanelli and his staff are outstanding. Throughout the process, they were caring, attentive and very thorough. They answered all questions and concerns and put my mind at ease regarding the recovery process. I couldn't have been happier!
Eyelid Surgery - I was very impressed with the front office when I walked in all said hello with a big smile then very much impressed with staff explaining to me in detail then to the doctor. Dr. R is very impressive, no pressure, 100 percent upfront. From the beginning to the end 100 percent great.
Tummy Tuck - All questions were answered. Everyone was very nice.
4.9 Average Rating
542 Total Reviews
Map and Location
About Us
Romanelli Cosmetic Surgery is an elite practice that specializes in plastic and reconstructive procedures. We offer a variety of surgical and nonsurgical treatments to cater to your unique needs and goals. Our skilled team of certified professionals are committed to providing you with outstanding service and will take their time in creating a customized treatment plan just for you. To learn more about us, come meet our staff, explore our procedures, view our latest specials, and read through patient testimonials.